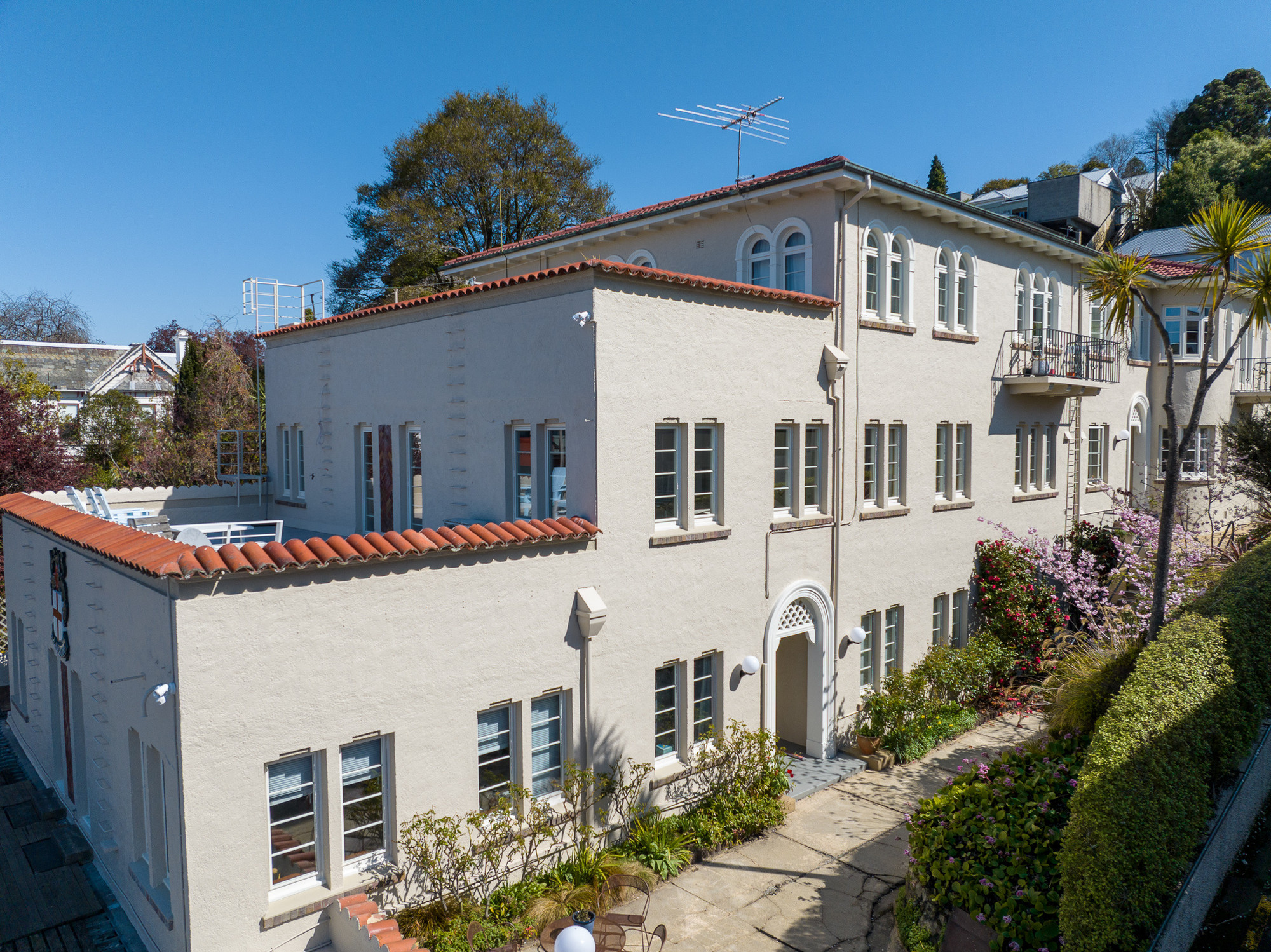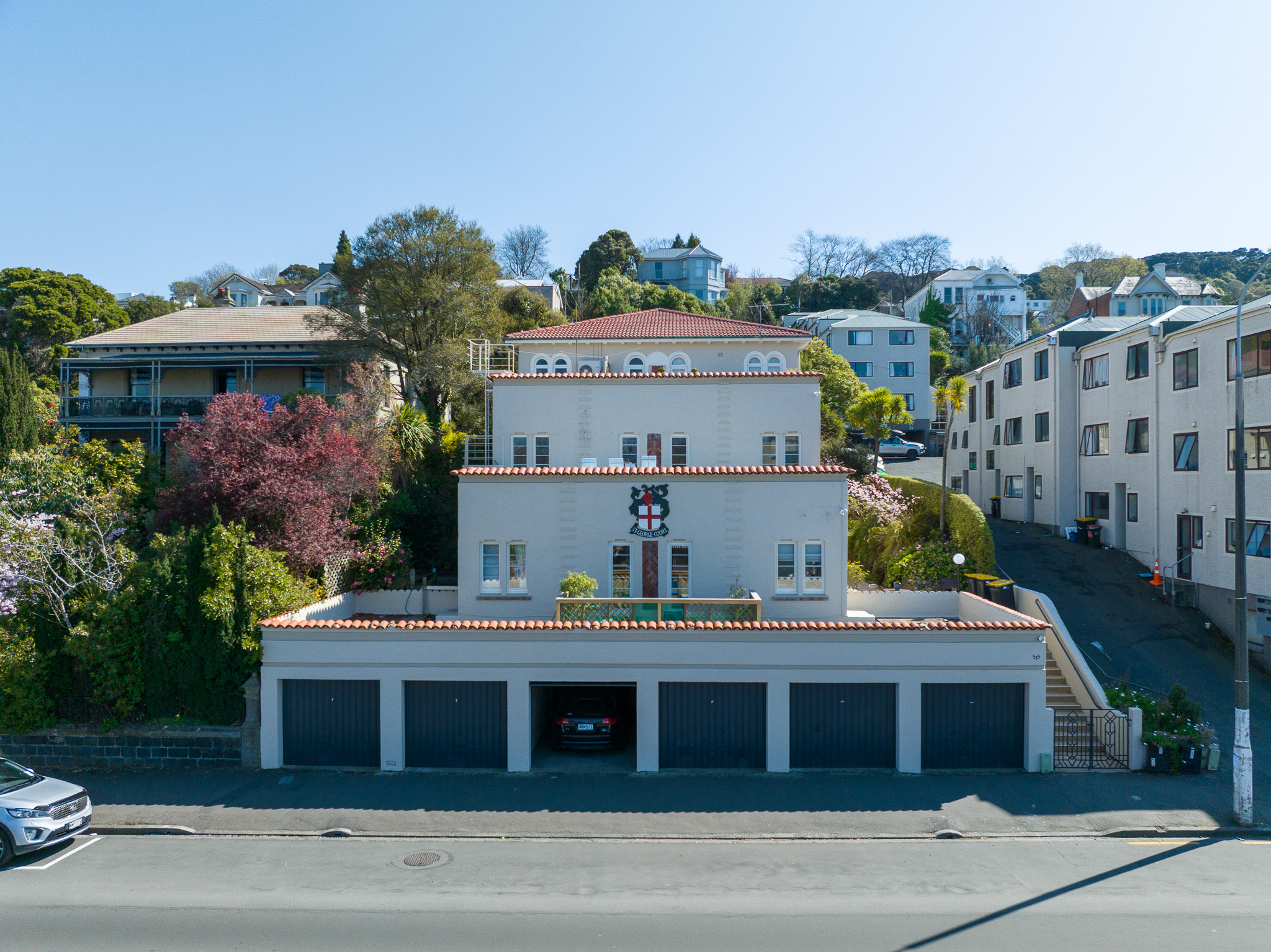 This project involved a full exterior repaint of St George Court, a prominent building in North Dunedin that was erected in 1938.
St George Court is an important piece of Dunedin's architectural history, designed by Henry McDowell Smith for a public company in 1936. McDowell Smith (1887-1965) was born in Manchester, England, and worked in Newcastle then Invercargill, before setting up a practice in Dunedin in 1921 after his war service.
His building designs in Otago and Southland include prominent homes such as University Lodge at St Leonards and Hudson House; as well as significant landmarks like the Octagon Theatre Dunedin (1938), Raes Junction Hotel (1934), Blacks Hotel Ophir (1938), Law Courts Hotel (1939), Maniototo Hospital (1942), the Rehabilitation Centre Anzac Avenue (1943), North End Service Station (1945) and the Signal Hill monument, among others.
2023 Master Painters NZ, Gold Award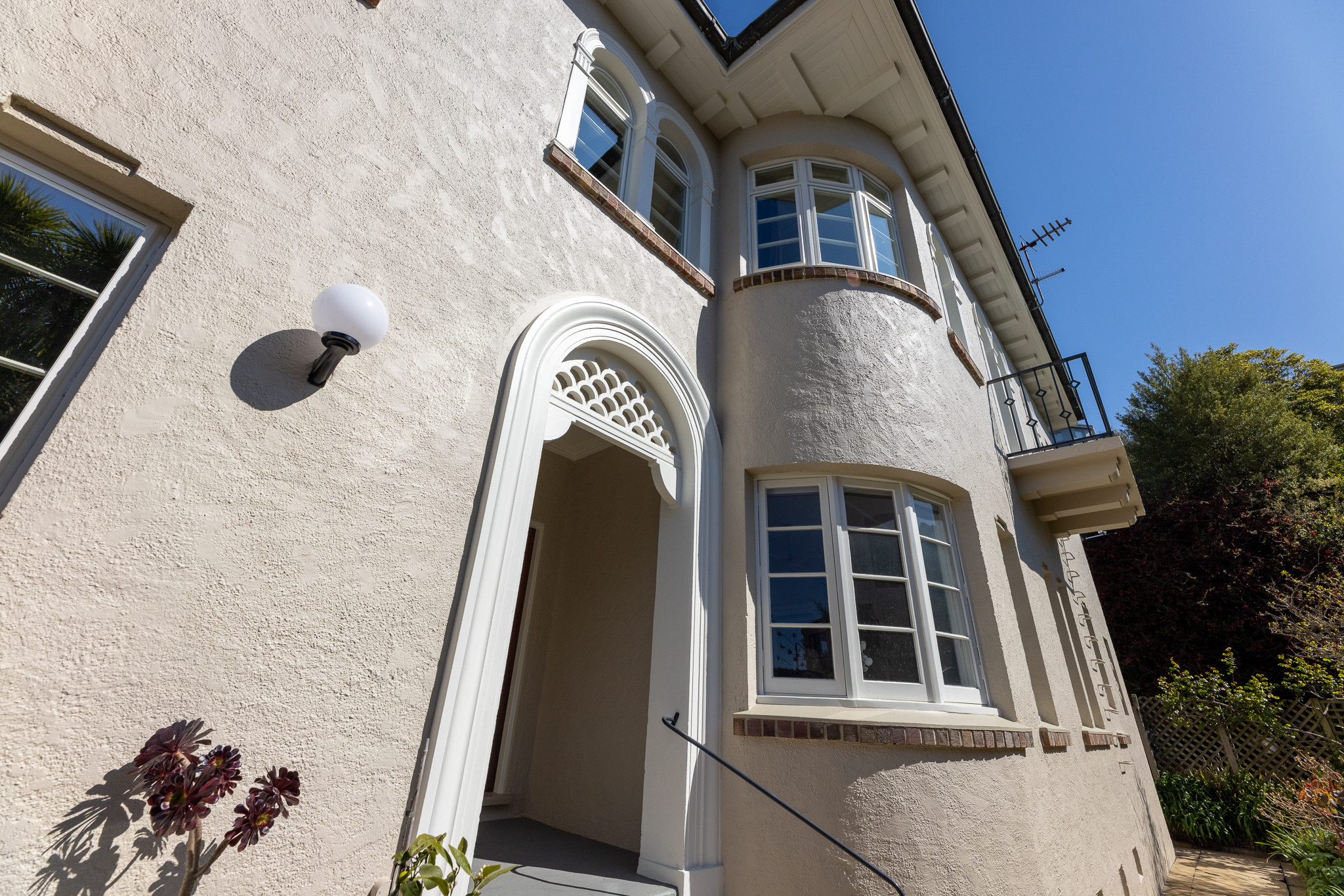 St George Court and the Tennyson Street Flats built in 1938 are fine examples of early purpose-built flats offering a "modern way of living" at that time in Dunedin. McDowell Smith's pioneering practice merged with Mandeno & Fraser in 1963, forming what is now Oakley Gray Architects, just a few doors north on George Street.
The St George Court building combines a fascinating mixture of design features. The Mediterranean influence and Spanish Mission style feature in the terracotta tiled roof and balconies, stucco walls, and decorative covered porch entrances. There are ornate arched windows on the upper floors, contrasting with the geometric Art Deco-style recesses around the lower windows and under the rooflines. The gate and balcony railings feature Art Deco influenced patterns, with interlinking diamond and oval details.
The building was in poor condition with areas of roughcast leaking internally and areas of rotten timber work. As part of the project all the windows were being retrofit double glazed, as well as other work carried out to generally tidy up the building.
Given this building is a residential home to over 20 individuals who all own their apartment (some residing overseas), another challenging aspect of the project was organising colour selections, and things like opening windows on certain areas of the building on certain days to allow us to progress the work. With solid communication this worked well, and apart from the weather delays, this project went very well.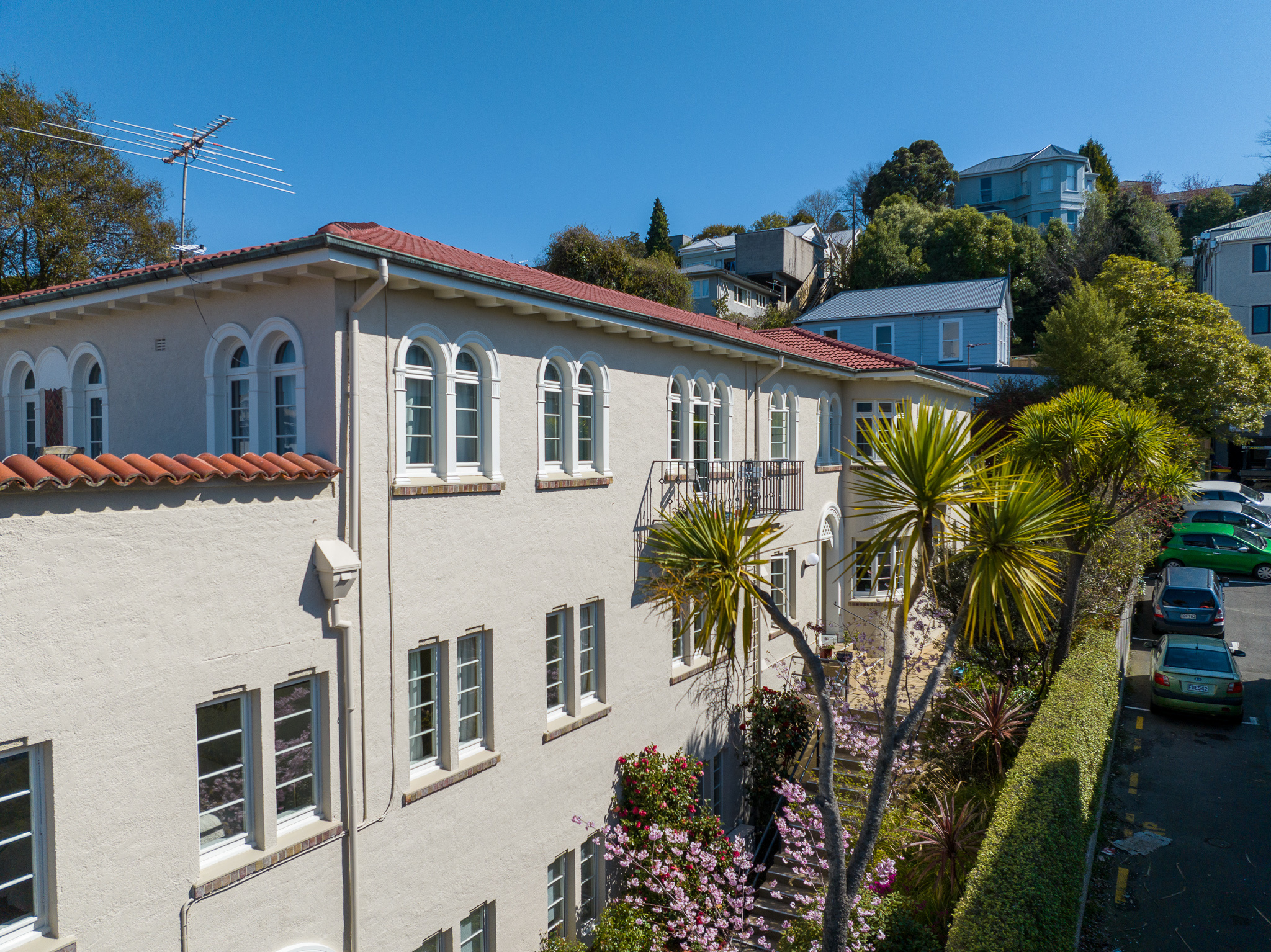 Another aspect of the project which needed to be spot on was the colour scheme. The previous colour scheme was uninspiring and lacked any sort of highlight to the building's masonic features. This is where Resene came in and assisted the project to organise a colour scheme that brought out the best of this building and made it shine.
Shine it certainly does! The finished product is something we are really proud of. The building owners are over the moon. The task set to us was making this building somewhere you want to live, and the number of positive comments by residents or passers by is really nice to hear.
The building is now well protected from the Dunedin elements, and is once again a real gem on the Northern end of George Street.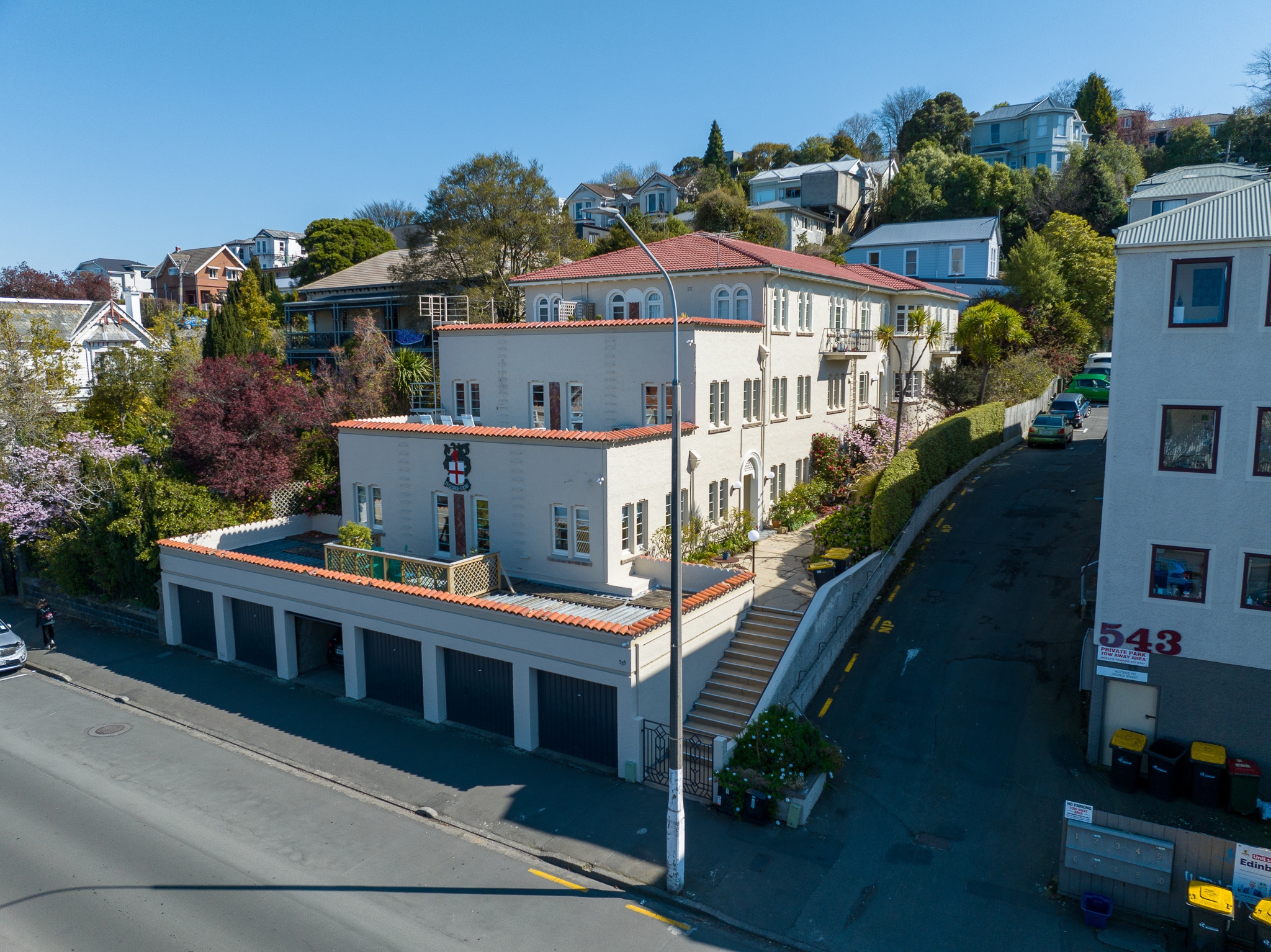 We are thrilled with the final result! It looks so good, and the water blasting/stair nosing's have really finished it off. I can't wait for the photos.

I would like to take this opportunity on behalf of the Body Corporate to thank you, Glenn, Colin, Hamish and the rest of the team for all of your work on this project. It's been a big one, and although there were some major delays, extreme weather, scaffold challenges and niggly re-do work created by other contractors, your team have been awesome, professional and so helpful.

Thank you to everyone for your attention to detail, for your flexibility, but above all, for doing a great job. I'm so pleased we worked with your team for this one!

Dr Ingrid Crawford - St George Court